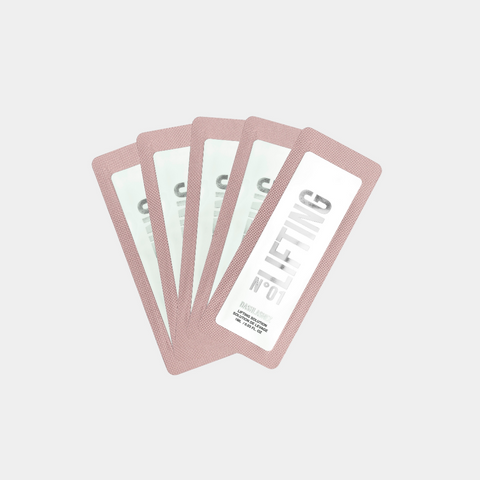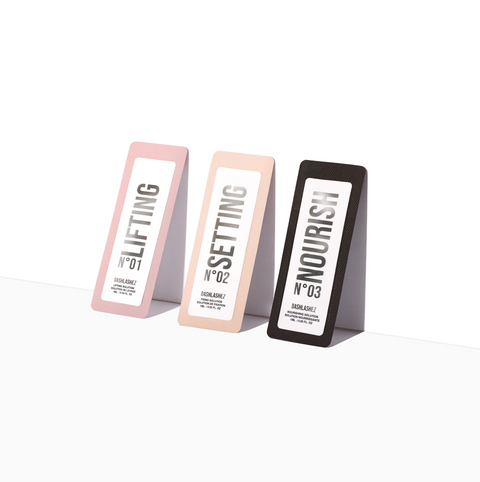 Lash and Brow Lamination Lift Solutions - Step 1
Checking local pickup availability
For step 1 of the lash/brow lamination process.
Set of 10 satchets.
Introducing our revolutionary system designed for both lash lift and brow lamination services. What sets us apart? Our specially crafted solutions are formulated without the use of thioglycolic acid or sodium bromate, ensuring a safe and gentle application on both skin and hair. Each Lash and Brow Lamination sachet provides ample product for up to 2 individual services, ensuring optimal results when used within the 24-hour oxidation period. Whether you're venturing into brow lamination or aiming to offer consecutive services, our solutions are tailored to meet your needs!
Ingredients
Water, cysteamine hci, ethanolamine, cetearyl alcohol, dipropylene glycol, oleyl alcohol, steartrimonium chloride, [isopropyl myristate, cyclopentasiloxane, propylene glycol, iceteth-20, fragrance, dimethicone, oleth-2, polyquaternium-10, diammonium dithiodiglycolate, tetrasodium edta, etidronic acid, olea europaea (olive) fruit oil, vitis vinifera (grape) seed oil, [hydrolyzed silk, phosphoric acid, phenoxyethanol, butylene glycol, hydrolyzed collagen, sodium cocoyl amino acid, potassium dimethicone peg-7 panthenyl phosphate
No thioglycolate, Cysteamine hcl base, Maintains the integrity of the bond.
Processing Times
Fine lashes: 8 - 10 mins
Normal lashes: 10 - 11 mins
Coarse lashes: 11 - 12 mins
Apply lift directly onto the base of the lashes secured to the shield. Process according to hair thickness. Remove once processing is complete and proceed to set.
Fine brows: 5-6 minutes
Fine to medium brows: 6-7 minutes
Medium to coarse brows: 7-8 minutes
Apply lift directly to your client's brows and process them for the recommended timing based on thickness for a maximum of 8 minutes. Processing the brows with plastic wrap is not required disclaimer: the use of plastic wrap will speed up processing times. It is imperative artists are properly trained to assess how the hair is processed with or without the use of plastic wrap.
Solutions are good within 24 hours of opening. Best used within 6 months of purchase. Store at room temperature for optimal results.
How long does shipping take?
CAD Orders:
Canada Flat Rate: 1-5 Business Days
Canada Free Shipping ($150+): 1-5 Business Days
US Orders:
US Flat Rate: 5-8 Business Days
DHL Express Worldwide: 1-3 Business Days
World Wide Orders:
In order to calculate shipping rates, add the desired products to your cart, fill out your personal information and address and click next. Your shipping options will be displayed along with the cost.
Can I place an order for pickup?
At DASHLASHEZ, we offer the convenience of local pickup for your orders. Please review our policy below for important details:
1. Same-Day Pickup:
Same-Day Pickup Request: If you would like to pick up your order on the same day of purchase, please text us at 416-992-7470 to confirm a pickup time before placing your order. We'll do our best to accommodate your request.
2. Local Pickup Availability:
Local Pickup Option: We provide a local pickup option for your orders. Simply choose "Local Pickup" during the checkout process.
3. Order Processing Time:
Ready for Pickup Email: After placing your order, please allow 24-48 hours to receive a "Ready for Pickup" email notification. This email will confirm that your order is prepared and available for pickup.
4. Pickup Address:
Pickup Location: Our pickup location is at 278 Copper Creek Dr, Markham, ON, L6B 1N7.
5. Pickup Requirements:
Identification: When picking up your order, please ensure you have a valid photo ID that matches the name on the order.
How will I know once my order has shipped?
Tracking information will be sent via e-mail upon shipment of goods. 
Transit time does not begin until your package leaves the shipping carrier's facility and does not include weekends or holidays.