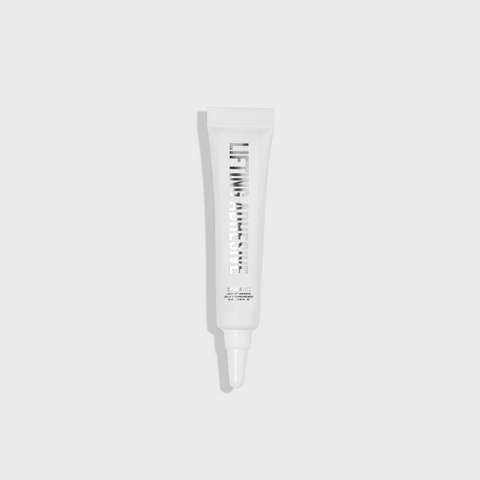 Lash Lifting Adhesive
Checking local pickup availability
Introducing our lash lift adhesive, meticulously crafted for a seamless lash lifting experience. This versatile adhesive serves a dual purpose, securely affixing lash lift shields to the eyelid and delicately bonding eyelashes onto the shield throughout the lifting process. Formulated without cyanoacrylate, this gentle water-based glue prioritizes a soothing application.
Key Features:
Water Soluble: Effortlessly dissolve and remove the adhesive with water, ensuring a hassle-free and gentle removal process.

Cyanoacrylate-Free: Our formula excludes cyanoacrylate, offering a milder alternative that caters to those with sensitivity concerns.
Experience the art of lash lifting with confidence, courtesy of our expertly designed, water-based lash lift adhesive.
Ingredients
Water, butyl acrylate, propylene glycol, dextrin, polyvinylpyrrolidone.
How long does shipping take?
CAD Orders:
Canada Flat Rate: 1-5 Business Days
Canada Free Shipping ($150+): 1-5 Business Days
US Orders:
US Flat Rate: 5-8 Business Days
DHL Express Worldwide: 1-3 Business Days
World Wide Orders:
In order to calculate shipping rates, add the desired products to your cart, fill out your personal information and address and click next. Your shipping options will be displayed along with the cost.
Can I place an order for pickup?
At DASHLASHEZ, we offer the convenience of local pickup for your orders. Please review our policy below for important details:
1. Same-Day Pickup:
Same-Day Pickup Request: If you would like to pick up your order on the same day of purchase, please text us at 416-992-7470 to confirm a pickup time before placing your order. We'll do our best to accommodate your request.
2. Local Pickup Availability:
Local Pickup Option: We provide a local pickup option for your orders. Simply choose "Local Pickup" during the checkout process.
3. Order Processing Time:
Ready for Pickup Email: After placing your order, please allow 24-48 hours to receive a "Ready for Pickup" email notification. This email will confirm that your order is prepared and available for pickup.
4. Pickup Address:
Pickup Location: Our pickup location is at 278 Copper Creek Dr, Markham, ON, L6B 1N7.
5. Pickup Requirements:
Identification: When picking up your order, please ensure you have a valid photo ID that matches the name on the order.
How will I know once my order has shipped?
Tracking information will be sent via e-mail upon shipment of goods. 
Transit time does not begin until your package leaves the shipping carrier's facility and does not include weekends or holidays.